Keezing Kreations specializes in handmade custom jewelry design in Boston, where we personally design and hand make all our custom jewelry pieces at our Boston Fine Jewelry Design Store, located in the landmark Boston Jewelers Building at 333 Washington Street.
Because each custom jewelry design is "made to order" the end result is always a perfect fine jewelry piece, exactly what the client wanted – from the way it fits to the way each unique handmade jewelry design attracts endless compliments.
Since we custom design jewelry in house, our Boston jewelry designers can accommodate practically any sized budget.
We have worked with jewelry clients throughout Boston and Massachusetts since 1946 and over the years many return to revisit our Boston fine jewelry store time and again, commemorating all of their life's major milestones with our custom Handmade Jewelry Designs.
Call 617-650-9934 or Email
Custom Made Jewelry Boston
Our Custom Jewelry Designs are always accessible online so we invite you to browse our collection of our most recent custom made jewelry pieces, handmade for clients throughout the Boston Area.
Custom Designed Jewelry
Boston is a great place for jewelry shopping. When you place a custom jewelry design order with us you become part of our team of jewelry designers and play an active role, sharing your vision and your concept, to inspire our talented jewelry designers and develop a unique piece of custom made jewelry that is uniquely you.
In creating custom handmade jewelry, our Boston jewelry designers work closely with you, giving you all the freedom you wish to dictate any of the following:

Personalized Contemporary, Modern or Traditional Jewelry Style
Symmetry and Arrangement of Stones
Size of Gemstones, Diamonds and Pearls
White or Yellow 14k or 18k Gold, Platinum (or other choice materials)
Matte, Shiny, Hammered or Sandblasted Finishes
Intricate Details and Personalized Touches for Added Interest
With such detailed input into each aspect of your custom, handmade jewelry design, the end result is truly a personalized piece of fine custom jewelry; something you will treasure for a lifetime!
Custom Made Jewelry Options
Boston clients are encouraged to bring in photographs of jewelry combinations and styles that they are naturally attracted to.
Pulling all of your favorite traits from photographs or from previous Keezing custom handmade jewelry designs will allow our jewelry designers to include your own distinct touches to create truly unique fine jewelry pieces including gemstone jewelry, engagement rings and wedding jewelry.
Custom Gemstone Jewelry

Bright and colorful gemstones naturally inspire creativity and the opportunity to design something with added appeal. Choose from our on site selection of sapphires, rubies, tourmaline, topaz and other fine gemstones, or bring in your old gemstones for custom gemstone jewelry design or redesign.
Custom Engagement Rings
From picking out the most radiant diamonds to perfectly setting them into a unique handmade unique ring, all that is left to do once you pick up your custom engagement ring is decide how to propose!
Custom Wedding Bands
Design your own set of matching custom wedding bands. We specialize in creating custom made women's wedding bands and custom made men's wedding bands that feature contemporary style and are built to last a lifetime.
Custom Remodelling & Remounting Jewelry
Our Boston jewelry designers will gladly remount your precious stones and gemstones into a new custom made jewelry piece or offer you a credit towards your purchase if you would rather choose gemstones from our inventory.
A major benefit of choosing the custom jewelry design process over a ready made piece of jewelry is that you can contribute your old gemstones, diamonds and old gold towards your new custom made jewelry design.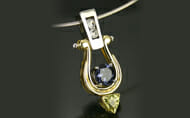 We also specialize in remounting jewelry settings. Bring in your old diamonds and gemstones that we can design a "remodel" around; one that is trendy and current but also incorporates the past. If you would rather keep the original design, our custom jewelry restoration services will help you remake and strengthen your fine jewelry so that it is able to withstand another 25 years of wear.
Boston Service Areas for Custom Jewelry Design
Our full service, custom handmade jewelry store is located at the heart of Boston's jewelry district. We are the greatest source for unique, custom made jewelry in all of Boston's neighborhoods, including:
| | | |
| --- | --- | --- |
| | Cambridge | Chelsea |
| | Medford | Malden |
| | Somerville | Brookline |
| | Revere | Winthrop |
| | Quincy | |
Why work with a custom jewelry designer
Individuality of design.
Create something unique.
Go to someone with experience that specializes in custom.
Read testimonials for the jewelry.
One on one consultation.
Superior quality over mass produced.
So that you get something unique that you have picked.
So the design comes out correct.
To be included on the design.
To get the right shape diamond for your finger.
To get the right figure size so the ring does not have to be resized.
Correct choice of metal.
To get the correct size of the stone.
So that the diamond in the ring will match the side stones.
So the height of the ring is correct.
The right view from the side.
Keeping the price down by manufacturing verse buying it from a wholesaler.
Prices can be controlled.
Able to use your own diamonds in the setting.
Credit old jewelry towards the purchase.
One on one service every step.
Ask Us About Custom Jewelry Design in Boston
At Keezing Kreations our custom handmade jewelry isn't custom just because it's made to order – it's custom because you have a say over the entire design process and the final outcome.
For information about our affordable Custom Made Jewelry Services in Boston  or to speak with our talented custom jewelry designers about creating a piece of fine, handmade jewelry for you, please contact us: