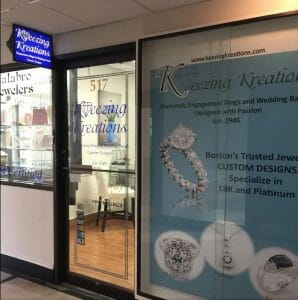 Keezing Kreations has one of the most prestigious addresses for a jewelry store in Boston and all of the United States!
We're conveniently located in the historic Jewelers Building of Boston at 333 Washington Street in downtown Boston, MA. Since 1922 this building (also referred to as Boston Jewelry Building or the Jewelers Exchange Building) has been America's go to source for jewelry in Boston including diamonds and gold.
We are surrounded by over 150 other independent Boston jewelry stores with direct access to the finest materials and best jewelers in the country. Ask anyone and they'll tell you to visit the Jeweler's Exchange Building of Boston for all your jewelry needs.
Jewelers Building of Boston History
The Jewelers Exchange Building has served both retail customers and suburban jewelry stores on a supplier level for nearly 100 years. In fact, some jewelers have been in the building since the 1940's.
The Keezing Kreations brand officially launched in 2007 with owner Debbie Keezing bringing decades of experience in the Jeweler's Building. Her father was one of the first Platinum jewelry designers in Boston and manufactured jewelry for many established jewelry stores in the Jeweler's Building. In 1978 Debbie officially joined her father in the Jewelers Building. Over the years Debbie's involvement in the Jewelers Building of Boston included three small showcases, a full size jewelry store, and now an intimate retail studio that allows her to custom design jewelry with her customers.
To say the least, Debbie Keezing and the Keezing Kreations jewelry store are well established among the long list of accomplished jewelers in the Boston Jewelry Building.
Jewelers Building of Boston Hours
The Jewelers Building of Boston is open:
Monday through Saturday
8:00 AM to 6:00 PM
Please note that Keezing Kreations is open:
Monday through Saturday
10:00 AM to 5:00 PM
Please note our special summer hours!
We will be closed Saturday July 8 – Friday July 14, 2017.
Jewelers Building of Boston Parking
There are a number of parking garages located within a short block's walking distance of the building:
33 Arch Street Garage – Enter off Hawley Street – FREE PARKING!
45 Province St Garage
Pi Alley Garage – Enter off Washington Street
At Keezing Kreations we will happily validate your parking for 3 hours with purchase!
If you choose public transit we are located at the following stops:
Red Line: Downtown Crossing
Orange/Blue Line: State Street
Green Line: Park Street
Jewelers Building of Boston Reviews
Almost every customer who walks through the doors at the Jewelers Exchange say it's worth the trip! With so many jewelry designers under one roof you really do not need to go elsewhere! Others comment on the best combination of price and quality, particularly for custom jewelry work.
Keezing Approved Things to Do in Downtown Boston
Since its opening in early 1900's people from all over New England the US have flocked to Downtown Boston because it is a prominent shopping district. Make a day or weekend trip out of it and enjoy everything Downtown Boston has to offer. Some of our favorite things to do near the Boston Jewelry Building include:
Shopping at over 200 different retailers in addition to the 300 jewelers in Downtown Boston
Grabbing lunch of dinner at more than 100 restaurants
Visiting the Theater District where you can catch concerts and lunchtime and evenings.
Strolling along the Freedom Trail and see some of the country's oldest icons of freedom including Old City Hall and Old State House.
Checking out the Downtown Boston events calendar to see what Boston has planned during your visit to the Jewelry Building!
Stop By Our Jewelry Store in Downtown Boston
We'd love to assist you whether you are in search of the perfect diamond engagement ring or wanting to creatively remount old family heirloom jewelry. Our jewelry designers can help regardless of your project or budget. While we welcome drop-ins we highly recommend making an appointment with our jewelry designer. This ensures you get the best attention and care.
Book Your Appointment Today
or Call 1-617-650-9934