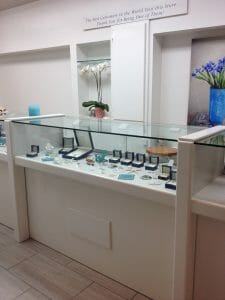 Whether you would like to speak with a custom jewelry designer, or if you have a question for us; we would love to hear from you! Please use the contact form below and we will get back to you as soon as possible. You are also welcome to visit our contemporary jewelry design store located in the historic Boston Jewelers Building. No appointment necessary – simply drop in!
Wanting to schedule an appointment? Use our Booking Calendar for in person and virtual meetings with us.
We are open Monday through Saturday from 11:00 AM to 4:00 PM and are happy to validate your parking for 3 hours with purchase.
Keezing Kreations
Suite #538 – 333 Washington St
Boston, MA 02108 Get Directions
Call: 617-650-9934
Email Debra Keezing (Owner): dkeezing@keezingkreations.com