How do you describe the modern flair of Keezing Kreations' handmade Custom Jewelry Designs?
Modern
Trendy
Cutting Edge
Exquisite
Throughout each step of our contemporary jewelry making process, craftsmanship, technology and art share a common goal for creating distinct, unique modern jewelry designs that are nothing less than contemporary perfection.
Our custom jewelry design store in Boston is located in the historic Boston Jewelers Building at 333 Washington Street. Here, we create stunning modern and contemporary jewelry designs including:
Contemporary bridal jewelry
Contemporary diamond jewelry
Contemporary gold jewelry
Contemporary engagement rings
In fact, we offer a full range of design services for contemporary ring settings in white and yellow gold or platinum. Ask us about contemporary diamond, gemstone and pearl necklaces, earrings, pendants and bracelets.
Our contemporary jewelry designers always strive to meet the needs of our clients; whether it's a remodel or remounting diamond jewelry, a classic piece of fine jewelry, or a unique, modern, contemporary jewelry design.
We cater to the specific design interests of each client with a specialty in unique, handmade contemporary jewelry design that is destined to meet the approval of all generations.
Call 617-650-9934 or Email
Contemporary Jewelry Design
Contemporary Gold Jewelry Design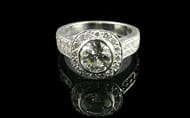 Boston has some of the finest jewelry stores in the country. Visit any of the jewelers here in the Boston Jewelers Building and you will see firsthand that gold is definitely not going out of style anytime soon.
Gold is a timeless metal that never "comes and goes" but has always captured and retained man's interest, especially when it comes to fine gold jewelry.
Our experienced contemporary jewelry designers love working gold into their unique jewelry designs and have decades of experience in designing with gold, diamonds and precious stones.
In recent years white gold has regained in popularity, especially for contemporary engagement rings and contemporary weddings bands. Yellow gold is still commonly used in many modern jewelry pieces but in an updated manner to keep with our unique, modern times.
Modern Jewelry Redesign Services
The focus of our Boston jewelry redesign services is to incorporate the natural beauty and memories of your old jewelry into beautiful new modern jewelry designs that you will love to wear for years to come.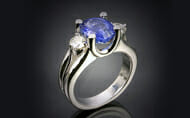 Do you have antique or heirloom jewelry that you would like redesigned?
Do you want to update your grandmother's diamond wedding ring into a custom modern engagement ring?
Do you want to add your collection of pearls or precious gemstones to your wardrobe but are unsure if their traditional style with complement your fashion sense?
We are experienced in remounting classic jewelry pieces and redesigning old heirloom jewelry into brand new pieces of cutting edge, modern j contemporary jewelry designs.
Our contemporary jewelry designers in Boston use the newest design technologies; together with creativity and innate design sense we can create unique, modern jewelry pieces that beg to be worn.
 Affordable Modern Jewelry Designs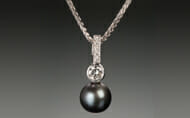 When you choose Keezing Kreations you will work directly with our Boston jewelry designers; there's no middleman! This means instant cost savings for you.
We are also able to work within your budget so that you can obtain the perfect contemporary ring, necklace, bracelet or pair of earrings that you can afford.
If you already own loose diamonds, old gold or precious gemstones, we will gladly offer trade-in credit or incorporate your stones or gemstones into your new contemporary jewelry design.
Contact Our Contemporary Jewelry Designers in Boston
Owning a piece of redesigned jewelry with a unique design, unlike anything that has come before, is about as contemporary as you can get!
Serving all of Boston's surrounding neighborhoods including Cambridge, Brookline, Newton, Winthrop, Saugus, Wellesley and Quincy, Keezing Kreations has serviced hundreds of satisfied clients throughout Massachusetts and many others throughout the US and Canada.
We take pride in each piece of unique contemporary jewelry added to our collection. View our Contemporary Jewelry gallery online, featuring some of our most recent contemporary jewelry designs.
For more information about Handmade Contemporary Jewelry Design in Boston or to speak with our contemporary jewelry designers about creating a new unique piece of modern jewelry for your collection, please contact us: