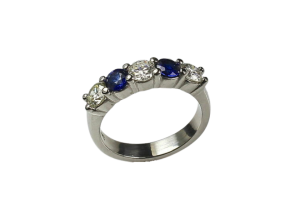 You're getting married! Congratulations!
Getting married is one of the most important decisions you will make in life, and the wedding rings that go with this milestone are far more than 'just jewelry'. As deeply personal symbols of your love for and commitment to each other, worn daily for as long as you both shall live, your wedding rings are likely the most important pieces of jewelry you will ever buy.
Given their importance, enduring symbolism, and the fact that you will wear this ring day in and day out, you're going to want to make it something that both you and your spouse absolutely love wearing. The very best way to do that? Create a customized wedding ring that has been designed specifically for you and your spouse. Truly, nothing says "I'll love you for all eternity" quite like a one-of-a-kind wedding ring that has been custom designed, with both you and your partner's style, taste, likes, dislikes, and personalities in mind.
Keezing Kreations' Top 5 Reasons to Custom Design Your Wedding Rings
Create an intensely personal, meaningful ring that is truly one of a kind. (Just like the love of your life!)
Create a matching set of custom wedding rings for you and your spouse, for an added layer of meaning.
Create a matching custom designed engagement ring and wedding band set guaranteed to complement each other, which can prove trickier in the ready-made market.
Create exactly the ring you have always envisioned. You can incorporate any elements you wish, any personal details you love, any materials you want. No compromise necessary. By tailoring every last detail of your ring to perfectly suit you or your spouse, from its design to its materials, you can create the ring of your dreams, a ring that speaks of your style, your heart, and your unique love story.
Repurpose a family heirloom or other uniquely personal piece into a personalized wedding ring that fits your aesthetic, dreams and desires. Repurposing a family heirloom into a customized wedding ring gives you the opportunity to show off your own style and a treasured family memory.
Keezing Kreations Custom Wedding Ring Design Process
At Keezing Kreations we can help you create the wedding ring of your dreams – whether that's a simple, traditional gold band or a multi-faceted, highly detailed intricate piece of jewelry design wizardry, there are no limits to your imagination or our skills! We can help you:
re-imagine an existing design;
create something from scratch;
use stones and materials you already own or source new; or
redesign family heirlooms into something that speaks of both your personal style and your heritage.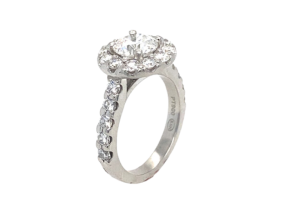 Furthermore, whatever your process, whatever your design, whatever your custom wishes, we involve you every step of the way. From the very first meeting, where you share your inspiration and ideas with our designer, to the initial sketches bringing your ring to life, to the wax model version of your ring, to the final product, this is your ring, done your way, but using our expertise, designer's eye and passion for perfection.
For more information on how creating your custom wedding ring works, check our Keezing Kreations design process, help in choosing your materials, top tips and more details.
There is no right or wrong way to approach the custom wedding ring design process… if you have a vision or a dream, our Keezing Kreations' jewelry designers can bring it to life. And if you don't, we can help you conjure one!
A Keezing Kreations custom designed wedding ring checks all the boxes: personal, thoughtful design; exquisite craftsmanship; the highest quality materials; and heartfelt wishes for a lifetime of love and happiness.
You didn't settle for anything less than fulfilling your heart's desire when it came to choosing your life partner. So why would you settle for anything less than customized wedding ring perfection: contact us today to custom design the wedding rings of your dreams.
Phone: 617-650-9934