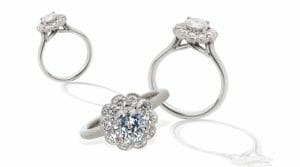 Nothing puts a sparkle in your eye quite like Keezing Kreation's signature diamond rings designed in the heart of Boston, Massachusetts!
All of our diamond jewelry (including diamond rings) is handcrafted in house at our jewelry store located in the historic Boston Jewelers Building where we are surrounded by the very best diamond jewelry designers in all of Boston. All of our diamond work is completed on site with no middleman, meaning you get the finest quality workmanship and expert care all within your budget!
Whether you choose white gold, yellow gold or platinum, stay with a traditional white diamond design or venture into the realm of pink or blue sapphire diamonds, or even decide to compliment your diamonds with other precious gemstones such as rubies, our Boston diamond jewelry designers with 40+ years of experience are here for you!
Browse a Sampling of our Diamond Ring Jewelry!
To Arrange an Appointment:
Call us at 617-650-9934 or Email Keezing Kreations
Below is a brief overview of the popular diamond rings and diamond ring jewelry designed right in our Boston jewelry store!
Diamond Engagement Rings Boston
The best diamond engagement rings are fully personalized and carefully designed to meet each item on your wish list while priced within your budget. At Keezing Kreations we are known for our ability to create unique diamond engagement rings in Boston that exceed even your wildest expectations. Come meet with one of our jewelry designers and we'll get your creativity flowing! Will you choose a pink diamond engagement ring, blue sapphire diamond ring or black diamond ring? How about one of our stunning pave diamond engagement rings or a classic Bostonian three stone diamond ring? Call us at 617-650-9934 to arrange a convenient time to meet with us!
Diamond Wedding Rings Boston
In search of the perfect set of matching diamond rings for your wedding? Our His and Her diamond wedding ring sets are as unique as each individual couple we work with. Looking for a diamond wedding band to match your already purchased engagement ring? Our Boston jewelry designers can create the perfect diamond wedding ring in matching clarity and cut. Our close to wholesale pricing means you don't have to break the bank to have a lasting symbol of your love.
Gold Diamond Rings Boston
Whether you choose white or yellow gold we're happy to design a gold diamond ring that is uniquely you! It could be an anniversary gift, graduation gift or simply a "just because" gift. One of our most popular types of gold diamond rings that leave our Boston jewelry store are white gold diamond engagement rings. We can also place your diamond in a new gold ring setting or repair your old gold diamond rings. Come speak with us today!
Rings & Bands of Diamonds Boston
A diamond band ring is a classic design that can be given or purchased for a variety of occasions. Many of our customers like to pair a thin diamond band with their engagement ring and others like to combine the classic Solitaire Diamond look to create a solitaire engagement ring with a diamond band. What will your diamond band look like?
Men's Diamond Rings
From a simple men's diamond pinky ring to unique and elaborate men diamond wedding rings, we've got you covered! We work with all materials including yellow gold and black diamonds, plus a number of different design styles including solitaire diamond, single diamond, vintage designs and more. Call Keezing Kreations today to see our assortment of men's diamond rings and to get started designing your own today.
Diamond Promise Rings Boston
Full of potential for the future, our diamond promise rings for her are popular among all ages. Typically smaller in size and less elaborate than a full diamond engagement ring our promise rings are perfect for the budget-conscious shopper. Consider a white gold diamond promise ring from Keezing Kreations when you are ready to boldly declare your love!
Certified Diamond Rings at Wholesale Prices
Because all of our work is done on site by our own jewelry designers there is no middleman, and you end up saving you both time and money. Plus you end up with a custom deigned diamond ring that is exactly what you wanted. Many of our customers also bring their old diamond rings and other items from their jewelry collection at home to either put towards their new diamond ring or to trade in and use as a credit towards their new piece.
All of our diamonds come with a certificate of authentication and each diamond ring comes with a professional certificate of appraisal for insurance purposes.
Ask About Our Custom Made Diamond Rings!
At Keezing Kreations we don't believe you should have to sort through thousands of diamond rings designed for the general public.
Instead, our Boston jewelry designers will sit down with you to find out exactly what you want. We can show you some of our diamond designs to spark ideas but ultimately the end product is in your hands. We will even use any diamonds that you already own as well as other materials you own such as white gold and platinum.
We work within all budgets to create the most perfect diamond engagement ring, wedding band, anniversary band or other special piece of jewelry. All in the heart of Boston, without any materials leaving our location!
For more information about or Diamond Ring Jewelry studio in Boston or about designing your own diamond engagement ring, please contact us:
Read what our customers have to say about us in our Testimonials section.