THE START OF SOMETHING BEAUTIFUL
Breathtaking. Stunning. Elegant.
Just a few words customers use to describe their one-of-a-kind custom made engagement ring by Boston jewelry designers.
We may be a little biased but our engagement rings are unlike anything else you'll find at big brand jewelry stores. We take the time to work directly with you from start to finish, creating the custom engagement ring of your dreams, so that you don't have to settle for just any ordinary engagement ring in a display case.
We invite you to come meet our talented Boston engagement ring designers. You'll be wowed by our service, expertise and ability to help you determine exactly what you want your engagement ring to look like even if you can't quite articulate it.
You'll also be surprised at how affordable our engagement rings can be despite being fully customizable! We'll work with you – you can schedule a time to meet with our diamond engagement ring designer online or simply drop by to see us in the Boston Jewelers Building!
We currently offer both In Person and Virtual Consults.
Our Design Process
Creating the Engagement Ring of Your Dreams With Us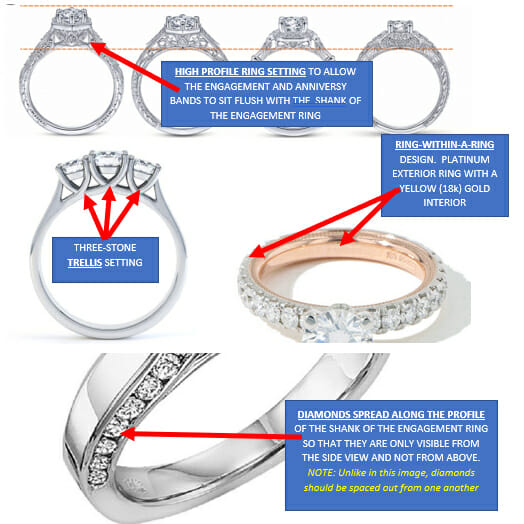 Initial consult to capture your dream through pictures and sketches.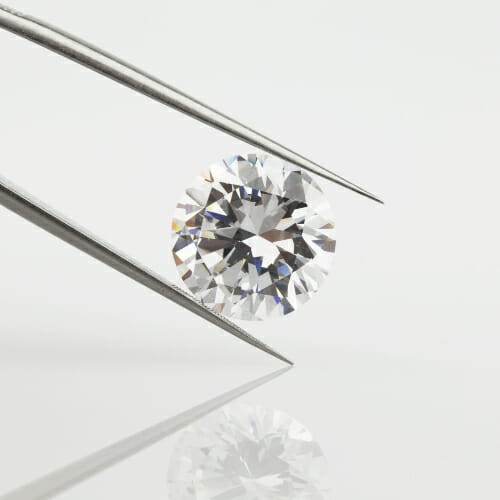 Decide on stones, setting, materials and fit.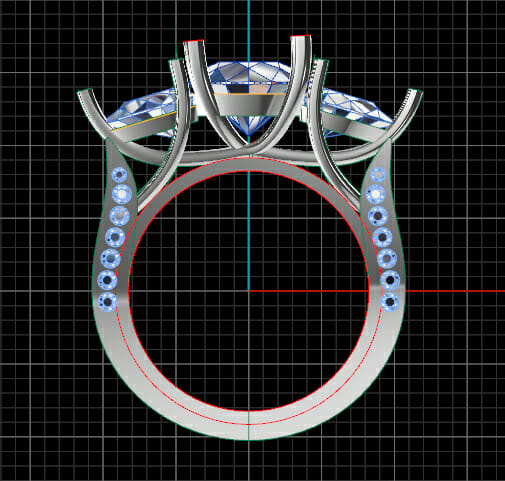 Sketches, CAD design and 3D renderings turn the idea into a solid concept.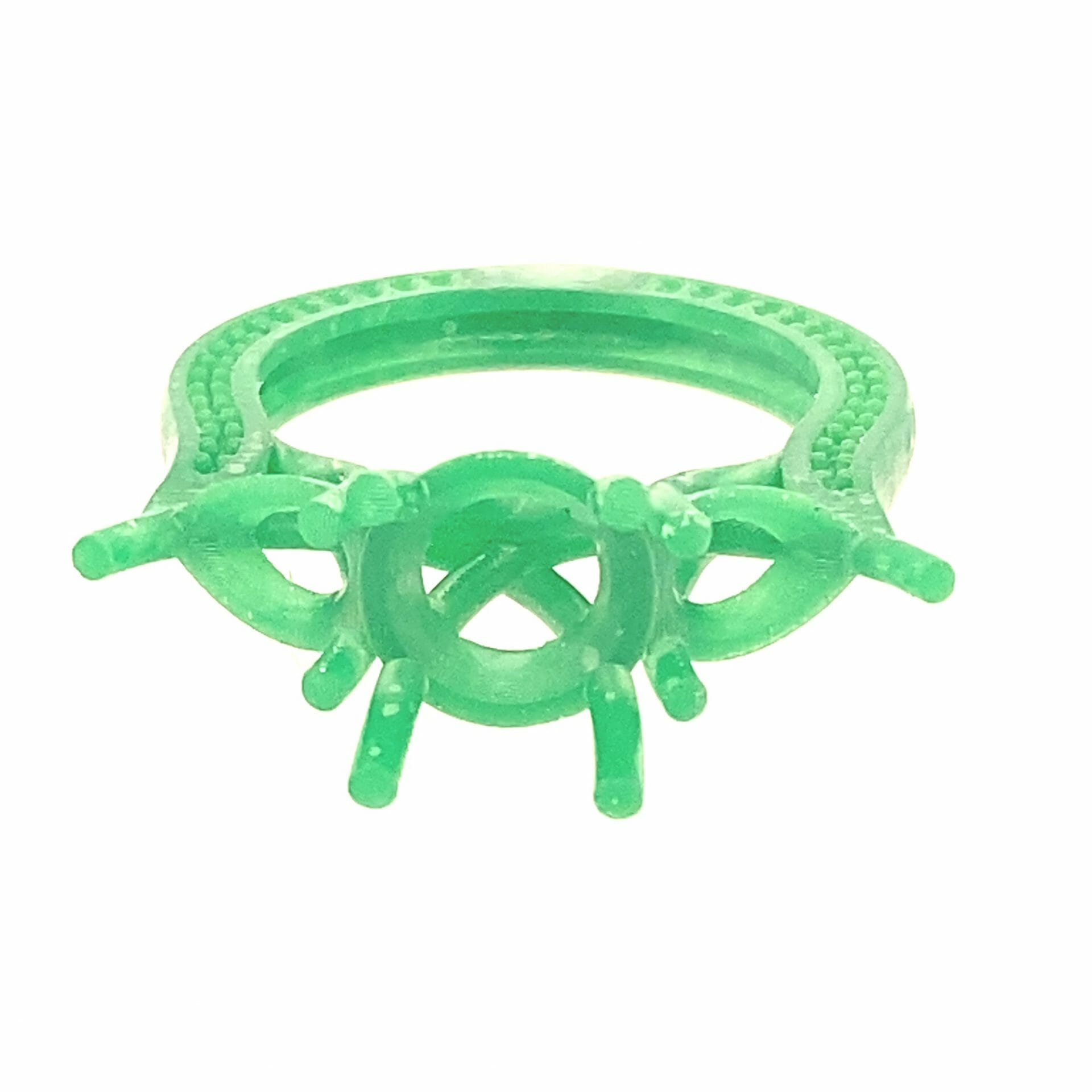 We use wax trial models to ensure perfect fit and design before creating the actual ring.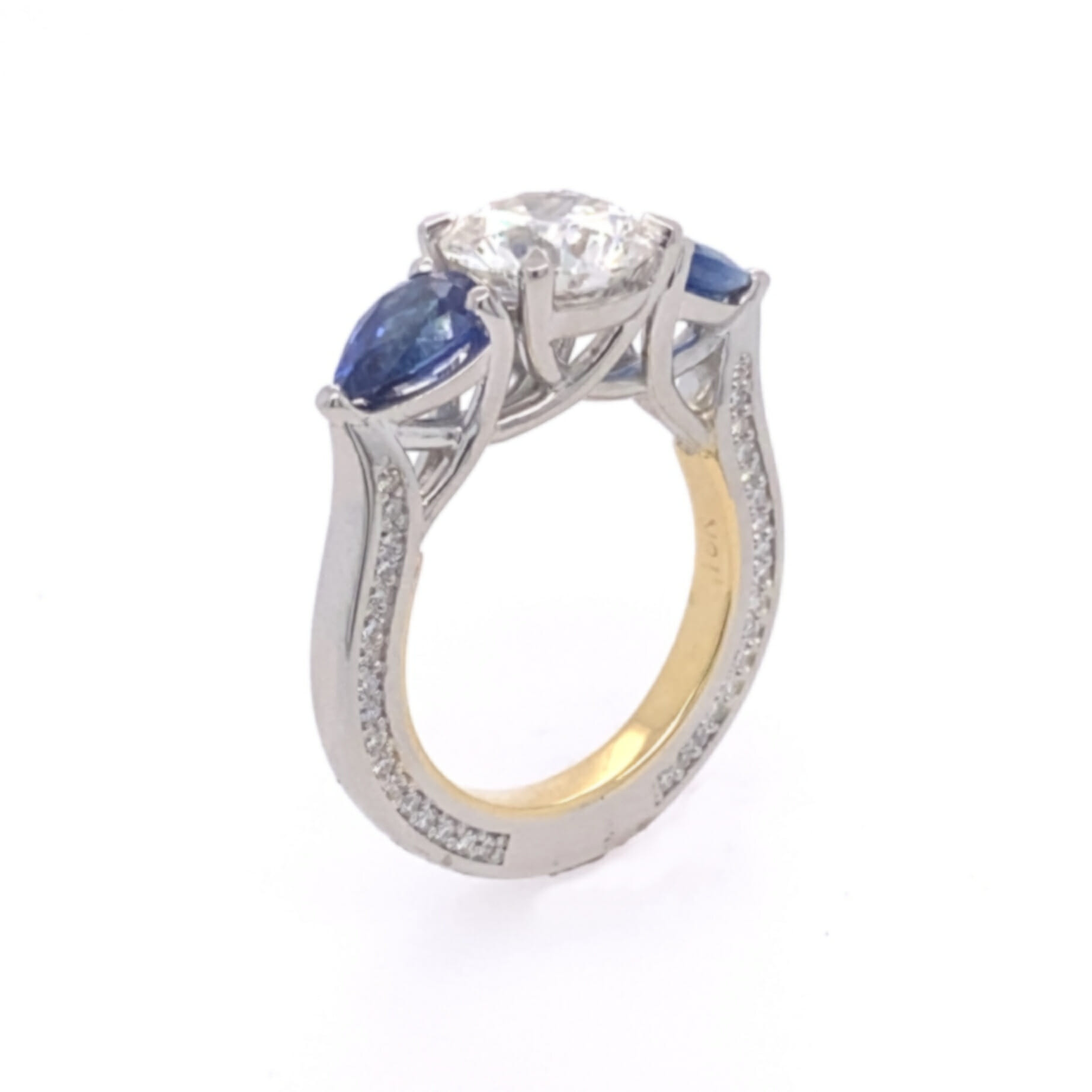 Pick up your engagement ring (along with its appraisal) and start planning your perfect proposal.
Amanda's Platinum handmade diamond band
michael
2023-04-20T15:34:17-05:00
It's All in the Diamond
Popular Diamond Engagement Ring Cuts and Options
At Keezing Kreations you'll find the highest quality certified diamond engagement rings in all of Boston. In fact, you get to personally select your center and side diamonds from our loose diamond collection. All of our diamond engagement rings are certified GIA-EGL. Or you can bring in your own diamonds! Some of the most popular diamond engagement ring styles in Boston are: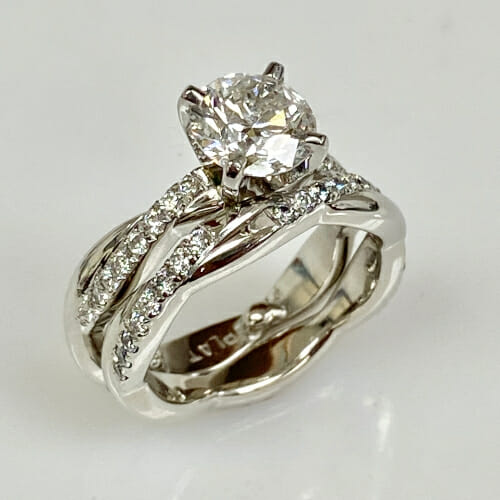 Round Cut Diamond Engagement Ring
The most popular diamond cut for an engagement ring is the round cut. In fact approximately 75% of all diamonds sold are round. Round engagement ring designs are considered superior to other fancy cuts because they maximize potential brightness. In general, rounded diamonds cost more per carat because of their high demand and because more of the rough stone is lost when cutting the diamond. Regardless of price round brilliant cut diamond engagement rings are stunningly beautiful in a very timeless and simple manner. Drop on by to see our round engagement ring ideas – they are sure to wow you!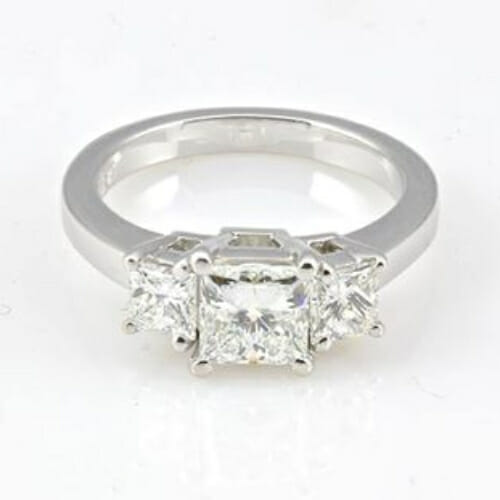 Princess Cut Engagement Rings
The second most popular diamond for an engagement ring is the Princess Cut which is either a square or rectangular shape. Sometimes you will hear it referred to as Square Modified Brilliant. Created in the 1960's and formerly referred to as a Barion Cut, the Princess Cut diamond is less expensive than round brilliant diamonds. With uncut pointed corners and a chevron appearance, the side view of a Princess Cut diamond looks like an inverted pyramid with four beveled sides. A princess cut diamond with the same width as a round brilliant diamond will weigh more. The princess cut engagement ring offers the most brilliant cut diamond of all rectangular and square diamond engagement rings.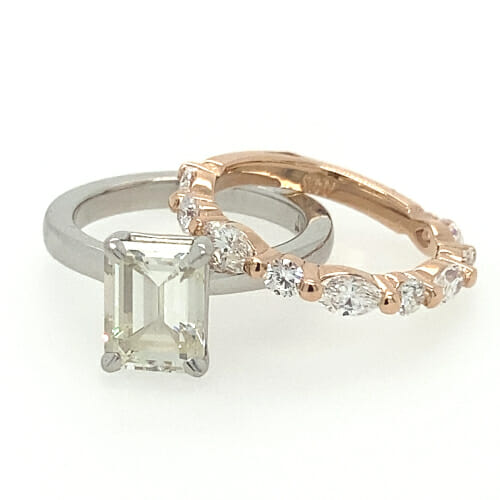 Emerald Cut Engagement Rings
An emerald cut diamond features a classic elegant look with long straight lines. The popular emerald cut diamond engagement ring can be square, oblong or rectangular. You may also find an engagement ring with an emerald diamond that is step cut or table cut with cropped corners. The open table cut makes it much easier to view the stunning color and clarity of your diamond engagement ring.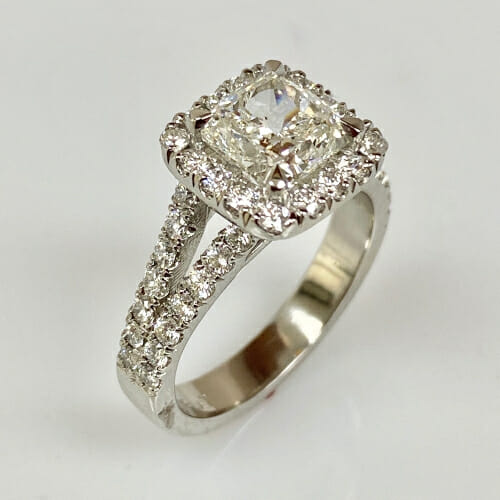 Cushion Cut Engagement Rings
The cushion cut engagement ring is essentially a square diamond cut with rounded corners, similar to a pillow or cushion. This particular diamond cut has been around for nearly 200 years and is a very romantic looking stone. Cushion cut diamond engagement rings come in a variety of square to rectangular shapes. Many will refer to this cut as the antique cut or candlelight diamond.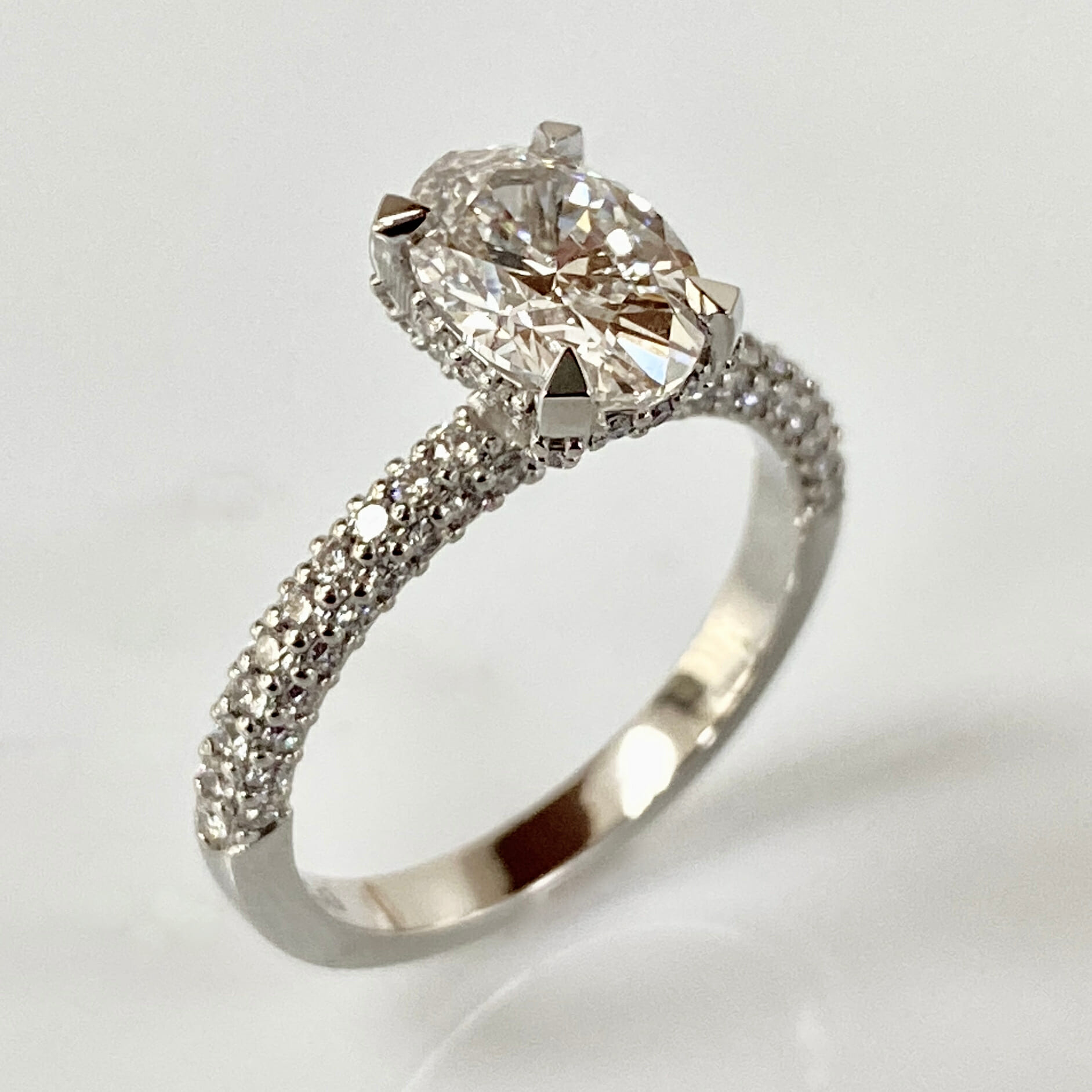 Oval Diamond Engagement Ring
The oval diamond cut was first created in the 1960's and is the perfect diamond cut for a customer who likes the look of a round diamond but wants something a little different. Oval diamonds are actually a modified brilliant cut and look larger because of the way they are elongated in shape. An oval diamond engagement ring looks stunning on long thin fingers.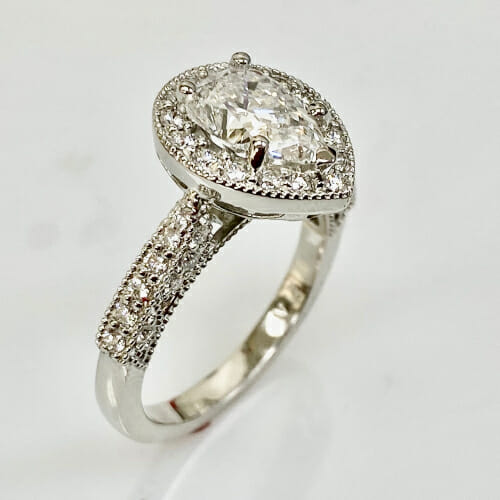 Pear Shaped Diamond Engagement Ring
Resembling a tear drop, a pear shaped diamond ring is a modification of the brilliant cut diamond. The pear shape is a combination of round at one end and marquise at the other end. Typically pear diamonds come in slim to wide cuts depending on the width to length ratio. We recommend a narrower pear shaped diamond for earrings and a wider pear shaped diamond for engagement rings, because the wider stone adds length to the finger.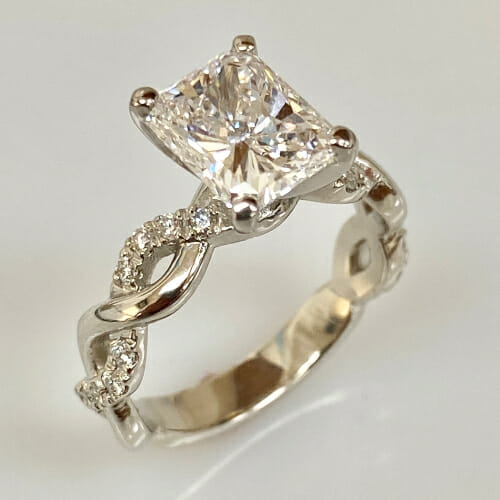 Radiant Cut Diamond Engagement Ring
A radiant cut diamond engagement ring brings plenty of brilliance and fire! With beautiful sparkle, it's not too far behind a round cut diamond in terms of brilliance. While technically smaller than an equivalent round diamond the long straight lines of a radiant cut diamond makes it look much bigger.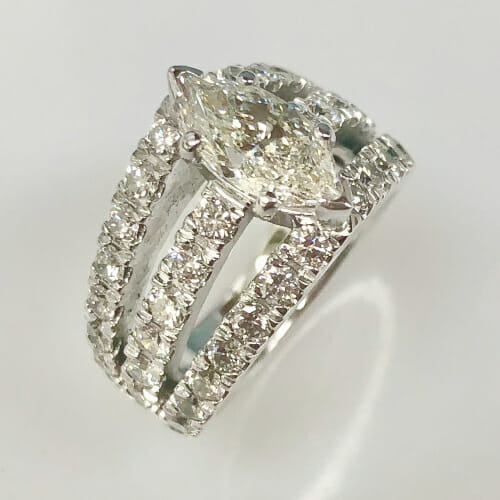 Marquise Cut Engagement Rings
The marquise cut diamond is an excellent option for your engagement ring as it gives the illusion of being longer in size. This elegant cut has an elongated shape and pointed ends with a large surface area. You'll be pleased to know that marquise diamonds are often less expensive that other cuts as there is less rough waste as they are carefully cut.
Diamond Settings
Your Engagement Ring Setting Options
The type of setting plays a huge role in the style of your engagement ring too. Vintage engagement rings and antique engagement rings are easily recreated using old-world settings such as Halo while a contemporary or modern engagement ring uses newer settings like Bezel and Tension. Some of the most popular engagement ring settings our clients love include: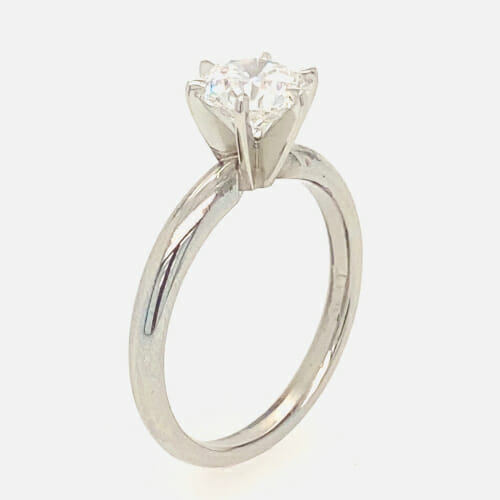 Solitaire Setting
The solitaire ring is perhaps the most classic engagement ring setting that puts the spotlight on the center stone. The solitaire diamond engagement ring features just one main diamond and is a timeless design that never goes out of style. A solitaire engagement ring can take on many looks including classic, vintage, or modern. Many refer to the solitaire ring as a Tiffany setting. The diamond of your choice can be set in four prongs, 6 prongs, or bezel.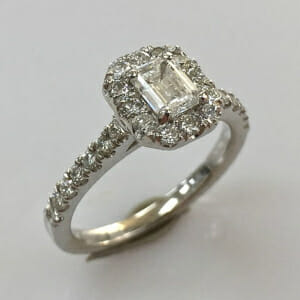 Halo Setting
This traditional engagement ring setting features a center stone, usually a diamond or sapphire, surrounded by a circle of diamonds. This setting creates an optical illusion of the center stone being larger than it actually is. The halo engagement ring setting places a frame around the stone to help it pop. Halo ring style are usually vintage or antique. Any shape diamond or colored stone can be used in a halo design.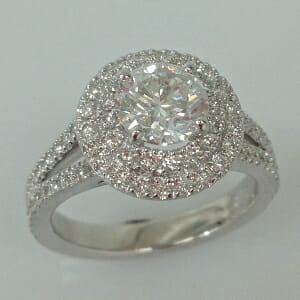 Double Halo Setting
A double halo engagement ring has two circles of diamonds that delicately frame a perfect round, square, or any fancy shaped center diamond. Typically a double row of micro pave set diamonds are used instead of larger sized diamonds in are used in a single halo engagement ring. The most common diamonds used in a double halo setting are round or cushion. Whatever size or shape, a double halo ring really makes the center stone pop.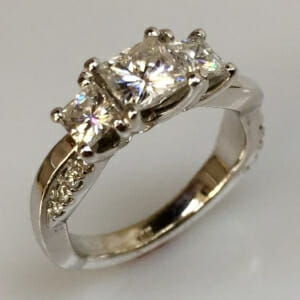 Three Stone Setting
Also referred to as a the "Bostonian Ring", the three stone diamond engagement setting features a larger center diamond paired with two side diamonds. The side diamonds do not have to have the same shape as the center. For example you can choose a round center diamond with round side stones or pear shape diamonds flanked to each side. We find that Princess cut diamonds pair best with other princess cut stones whereas a three stone engagement ring with a center emerald cut diamond and trillion shaped diamonds on either side looks amazing too. The options are near endless when designing your own three stone engagement ring with Keezing Kreations.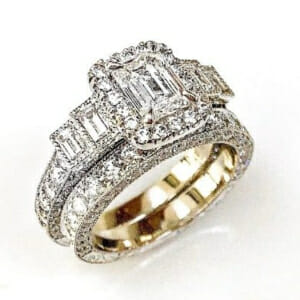 Pave Set (Bead Setting)
Pave (pronounced pah-vey) is a French term that refers to a cobblestone street. The pave set diamond ring has very little metal showing because the diamonds are set very close together creating the illusion that the ring is completely made of diamonds. The metal between the diamonds also creates sparkle in the surface between the diamond. We like to design pave diamond rings in white gold or platinum because it blends beautifully with the whiteness of your diamonds.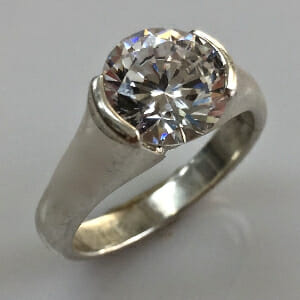 Bezel Setting
A bevel engagement ring frames your diamond. The metal setting matches the shape and size of the diamond, and is pushed over the diamond to hold it in place. The bezel can go completely around the diamond or just halfway. Bezel settings work for cabochons or faceted stones.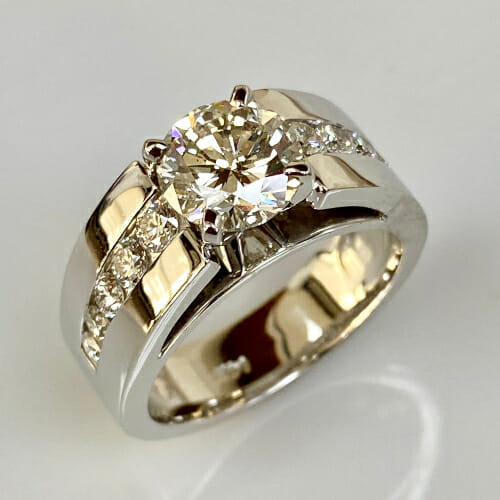 Channel Setting
A channel set diamond engagement ring does not have any prongs. Instead, the diamonds are suspended between two metal strips or bars. The diamonds are firmly held in place by the metal frame which places even pressure from both sides of the diamonds. Channel settings are very popular down the shanks of an engagement ring.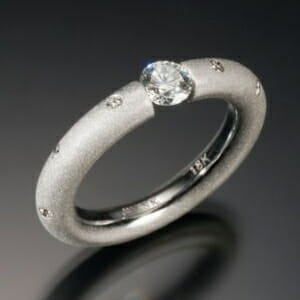 Tension Setting
A tension set diamond engagement ring is a very customized ring! Because the tension setting cannot be resized easily the ring is usually made to order once purchased. A tension set ring is also designed to fit the specific diamond chosen, which is held in place by pressure rather than prongs, beads or bezel setting. The metal spring is loaded and exerts pressure onto the diamonds and makes it look like the diamonds are suspended in air. Please note that not all stones are hard enough to be set in this way. Other setting and design features to make your ring unique include a split shank, intricate side details, milgrain settings or even channel set diamonds down the shank.
Choose Your Material
Platinum or Gold Engagement Rings
Traditional engagement rings are usually made from White or Yellow Gold. Today designers also opt for Platinum because of its rarity and purity. Here are some key considerations when choosing the material for your engagement ring.
Tips for Picking the Best Engagement Ring for Your Loved One
With so many options online and in stores for engagement rings it's important to be prepared. Here are some tips we give our customers when they first start looking for that perfect engagement ring.
Pre-shop with your soon-to-be-fiancé and learn their preferences. If you want to be more mysterious you can casually window shop, ask her best friend or even get ideas from her Pinterest account.

Pick a suitable design that goes best with her skin coloring and is proportional to the size of her hand.

Know her ring size – nothing is worse than popping the question with a ring that won't fit on her finger!

Decide your budget before going shopping. Get the help of a professional jeweler to explain different cuts and grades of diamonds so that you can get the biggest bang for your buck.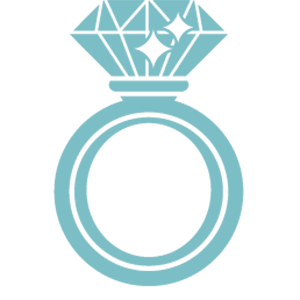 What Our Customers Say About Our Engagement Rings
VERY HAPPY WITH OUTCOME

Debra did an amazing job designing our blue sapphire engagement ring. We were involved during the entire process from the CAD to the 3D print and to the final product. We are both very happy with the outcome and with Debra's patience and help!
TRULY A UNIQUE AND INSPIRED WORK OF ART

"My fiancé and I interviewed many jewelers in the Boston Area for months to create a unique engagement ring that has classic elegance and sophisticated design. None inspired us with confidence and conviction that they could create the ring that we want. Debbie, however, was different. She took the time to meet with us to ascertain precisely what we want and she had us meet with her jewelry designer to make sure that he too understood our desires and could meet our vision. We felt secure and confident that together they could create the perfect ring. And, wow, we were overwhelmed by the beauty, elegance and magnificence of the final product! The ring is truly a unique and inspired work of art, finely detailed and stunning. Every time we look at it, we continue to be in awe of the artistry and craftsmanship that created this wonderful masterpiece! Thank you Debbie and thank you James!! We will never tire of wearing and looking at this truly magnificent "Kreation"!!!!
EXACTLY WHAT I WAS ENVISIONING WITHIN MY BUDGET

I worked with Debra for my engagement ring, from the moment I walked in my experience was completely different than the 4 other places I had been before while browsing. Debra took the time to get the most value for my budget and get a true feeling for what was the most important to me in a ring. I managed to get exactly what I was envisioning all within my budget all with no hassle or haggling. Everything was transparent and up front. I would 10/10 recommend to anyone else and we will be going back for our wedding bands! PS She LOVED the ring!
MOST GORGEOUS RING I COULD HAVE EVER THOUGHT

My fiancé and I went to Debbie, looking for an engagement ring. I ended up with the most gorgeous ring I could have ever thought. Debbie and her crew did a fantastic job. It was early in the pandemic when things for first starting to shut down but Debbie came through as promised. Every time I'm told how beautiful my ring is my face lights up, I say thank you and if you ever need anything please go see Debbie at Keezing Kreations or please check out her web page. I will be forever indebted to the people of Keezing Kreations! Love you Debbie
Priced Within Your Budget
We'll deliver your dream engagement ring while staying within budget.
75 Years in Business
Established in 1946, we sure know how to wow our customers.
Expert Care and Experience
We're here to help you whether you are just browsing or ready to buy.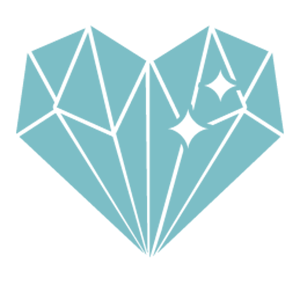 Say Yes to Forever - Act Now!
Book Your In Person or Virtual Appointment
Keezing Kreations is located inside the Jewelry Exchange Building in Downtown Boston, MA along with other top respected Boston jewelry designers and jewelry stores. Our jewelry store is open to the public but we highly recommend that you make an appointment to come browse our engagement ring designs and to personally meet with our jewelry designer to discuss your own engagement ring.
Priced Within Your Budget • 75 Years in Business • Expert Care and Experience • Locally Owned and Operated
Say Yes to Forever - Act Now!
Book Your In Person or Virtual Appointment
Keezing Kreations is located inside the Jewelry Exchange Building in Downtown Boston, MA along with other top respected Boston jewelry designers and jewelry stores. Our jewelry store is open to the public but we highly recommend that you make an appointment to come browse our engagement ring designs and to personally meet with our jewelry designer to discuss your own engagement ring.