Many of our Boston jewelry customers contact us requesting "I want to design my own ring!"
Some can't find exactly what they are looking for while others want to make a personal statement or are looking for a ring that is 100% unique.
Whatever reasons you may have for choosing to design your own ring, our qualified Boston Jewelry Designers located in historic Boston Jewelers Building are ready to help you create the custom ring of your dreams.
Other jewelers' concept of letting you design your own ring might only include choosing your diamonds and setting but that's not what we do here at Keezing Kreations. We believe that customization goes far beyond this.
From concept to finished product the entire custom ring design process is fully customized to your needs. With our help you can custom design your own engagement ring or design your:
Wedding Ring
Anniversary Ring
Eternity Band
We can even help you Remount a Diamond Ring or custom design your own promise ring!
Why not design your own ring inspired by your personal style, whether it be a traditional or contemporary ring design – or a little of both!
Call our Boston Jewelry Designers
at 617-650-9934 or Email us today
Design Your Own Ring Boston
Design Your Own Engagement Ring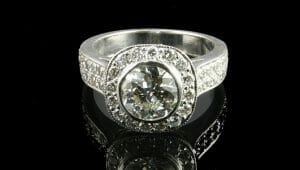 Have you heard your soon-to-be fiancé say, "I want to design my own engagement ring?" Perhaps this is because very few pieces of jewelry come as close to being "once in a lifetime purchases" as your engagement ring.
Design your own engagement ring from start to finish with the help of Keezing Kreations and ensure that your gemstone or diamond engagement ring is a true reflection of your everlasting love.
We recommend that you start with either the diamond of your choice or with the setting of your choice, and then build from there.
Here are some important questions to consider during the ring design process:
Do you want a solitaire or traditional Bostonian three stone setting?
Do you want to incorporate pave or complementary side gemstones or diamonds?
What statement do you want the engagement ring design to make: retro, contemporary, modern, classic?
Do you also want a matching or complimentary wedding ring, now or in the future?
Have you inherited your grandmother's or mother's engagement ring that you'd like to incorporate?
Do you have any other diamonds, gemstones or old gold you would like to use to create a new ring design?
We will help you answer these questions and more when you embark on the custom design process with Keezing Kreations. Design your own diamond ring for your loved one and get the reaction that you have both been dreaming of.
Design Your Own Wedding Ring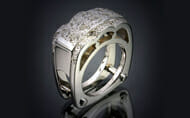 Many engaged couples will choose to design their own wedding rings to compliment the other's wedding ring or to reflect exactly what he and she wants.
Women Wedding Rings can be matched to fit perfectly with the custom designed engagement ring to give the illusion of being one larger ring. Many women choose to design two wedding rings – one to be given on the day of the wedding and the second on the first or fifth wedding anniversary. This creates a custom double or triple shank appearance.  An ideal time to design your own wedding ring is when you design the engagement ring but we are always ready to help design a custom wedding ring, even if it's 50 years later.
Design Your Own Wedding Rings for the Groom. Male wedding rings are no longer a simple gold band. Today men choose to design their own ring so that it features diamonds, a hammered finish, etched designs and more. Whether you seek to design a man's wedding ring with flair or subtlety, Keezing Kreations is ready to help you get one that reflects your own personal tastes and lifestyle.
Other Rings & Design-Your-Own Ideas
Weddings are not the only occasions warranting a "Design Your Own" approach to jewelry.
Whether you want to preserve family gemstones, redesign heirloom jewelry or give the gift of an anniversary ring or eternity ring Keezing Kreations offers its services for  handmade custom designed rings and jewelry right here in the heart of historic Boston.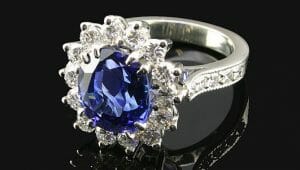 Design Your Own Gemstone Ring
Select any combination of gemstones stocked in house at our Boston jewelry store or bring in your family heirlooms to inspire your design.
Design Your Own Anniversary Ring
Whether you want to design your own anniversary ring to match an existing engagement or wedding ring or if you want to come up with a brand new concept that reflects your current style, Keezing Kreations is ready to assist you!
Design Your Own Eternity Ring
Nothing says "I'm forever yours" more than a custom designed eternity ring. Choose from a gorgeous diamond or gemstone encrusted eternity ring, designed and handcrafted to order just for you.
Design Your Own Jewelry
Looking for something different than a ring? What about an extra special piece of jewelry to go along with your custom ring design? Why not design your own pearl pendant necklace, gold earrings or diamond bracelet?
The Keezing 'Design Your Own Ring' Process
What's involved when you design your own ring with us? It is quite simple and a lot more affordable with Keezing Kreations than most people think! Let us walk you through the Jewelry Design Process.
Bring your ring design concept to one of our award winning Boston custom jewelry designers. We invite you to bring in your own sketches, pictures and ideas.
Collaborate with our Boston jewelry designers to come up with a unique ring design that works with your chosen diamonds, gemstones and gold materials.
Relax as we handcraft your personal design into reality. The finished custom ring design can be completed within your own timeframe – whether you need your unique ring by next week or next year – we'll create it on budget!
We are experienced in taking your own ring design concepts – whether simple or complex – and turning it into a reality.
Let Us Help You Design Your Own Ring
Keezing Kreations is a Boston Custom Jewelry Designer. Whether you already have a clear idea of how the ring you want to design will look or if you simply know you want to choose the 'Design Your Own Ring' option, we are here to help.
We invite you to browse our Custom Jewelry Photo Gallery for a small sample of the ring masterpieces we have helped our clients design. Be inspired by one of the pieces and let us help you personalize it or present us with your new ideas! We are always up for the challenge.
The sky is the limit when you custom design your ring with Keezing! Get started today and design your own ring with Keezing Kreations' Boston jewelry designers: