Clients of Boston's Keezing Kreations rave about our Boston Fine Jewelry Store and generally agree that our unique handmade Boston jewelry designs are timeless, fashionable, first-class and decidedly enviable.
Drop in to visit our handmade jewelry store anytime. We are located in the heart of Boston's jewelry district on the fifth floor of the Boston Jewelry Building at 333 Washington Street.
Bring in your own design ideas and talk to our Boston jewelry designers about creating handmade, unique, men's or women's:
Fine diamond jewelry
Fine gemstone jewelry
Fine gold jewelry
Classic jewelry design
Contemporary jewelry design
When we custom design you a piece of fine gold jewelry you can even bring in your old diamonds, gemstones or pearls and have them remounted. We strive to create custom fine jewelry designs that you will cherish for a lifetime and be admired by everyone you meet.
Keezing Kreations is a custom fine jewelry store that specializes in handmade fine jewelry. Our Boston jewelry store has been around since 1946. We've built a wonderful reputation for fine gold jewelry in Boston and throughout the state of Massachusetts.
Call 617-650-9934 or Email our
Boston Fine Jewelry Store
Below is an overview of some of the modern and Contemporary Fine Jewelry pieces our talented Boston custom jewelry designers have created here at Keezing Kreations. Click here to learn more about Fine Jewelry Services Boston.
Fine Gold Jewelry Design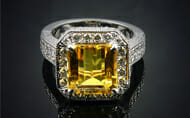 Worth its weight in gold! As custom, handmade, fine jewelry designers we like to design with gold because of its beauty and workability, and because the end result of our workmanship is always worth its weight in gold.
When you design in gold you inherently add timeless value to your fine jewelry. Gold is highly sought after and has become more valuable particularly in the past few years. Pure 24k gold is too soft and pliable to incorporate into custom fine jewelry creations that are worn regularly so we typically work with more durable 14k and 18k white and yellow gold.
Check out the collection of fine gold jewelry in our Boston jewelry store and you'll find unique, handmade gold jewelry engagement rings, gold wedding rings, gold necklaces, gold bracelets and gold earrings. If you have an original jewelry design concept or an idea for a custom gold jewelry piece, talk to our fine jewelry experts; we can design whatever you envision in white or yellow gold!
Fine Gemstone Jewelry Design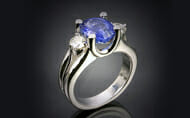 Victorian author and poet George Eliot is credited with saying, "Gems have life in them: their colors speak, say what words fail of." We believe that precious gemstones do indeed bring vibrant life to any piece of fine gemstone jewelry.
We have a working inventory of precious gemstones available for purchase that can be incorporated into a beautifully designed piece of fine gemstone jewelry. We suggest designing with rich blue Sapphires, blushing pink Tourmalines, honey yellow Topaz, vivid green Emeralds or ravishing red Rubies.
If you have old heirloom gemstone jewelry sitting in your jewelry box at home, we invite you to bring it in to our Boston fine jewelry store. We can provide jewelry remounting and redesign services or jewelry remodeling services to bring life back into your gems; or, we can offer you credit towards a new, custom handmade fine gemstone jewelry or fine gold jewelry design.
Fine Pearl Jewelry Design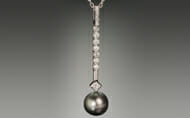 Pearls have a unique story to tell, from being formed under seawater in an oyster to the process of being harvested, sorted and matched. People say that a pearl is a living jewel and we strongly believe that when added to a simple or intricate fine jewelry design; the entire fine pearl jewelry piece comes to life.
Our unique collection of cultured pearl jewelry designs can be elegantly timeless while exhibiting the best of contemporary and modern jewelry trends. How we balance the versatility of fine pearl jewelry is up to you.
Fine Diamond Jewelry Design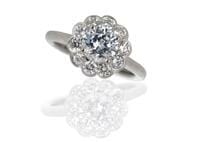 The precision in all of our fine diamond jewelry designs is what holds a piece of diamond jewelry together. We like to allow the radiance of carefully selected diamonds to visually bring together the beauty of a piece of fine diamond jewelry.
Diamonds truly are forever and are indeed a girls' best friend. We will gladly walk you through the process of selecting the most desired diamonds for fine gold jewelry settings based on clarity, cut and color for use in any of our Boston custom jewelry designs.
Our fine jewelry designers perfectly match the hand chosen diamond for size (down to the tiniest millimeter) and flawlessly integrate these precious jewels into one of a kind, fine diamond jewelry including wedding rings, custom diamond engagement rings and other pieces of handmade fine diamond jewelry including necklaces, bracelets and earrings.
View our most recent classic, modern and contemporary jewelry designs in our online Fine Jewelry Gallery.
Custom Fine Jewelry Design in Boston, MA
Each Keezing Kreation is handcrafted by our in-house fine jewelry designers in Boston, Massachusetts.
We believe that fine designer jewelry is a result of careful attention to detail and advanced handcrafted techniques. Working directly with our customers, Keezing Kreations cuts out the middle man so you get the most affordable fine jewelry available in all of Boston!
For information about our any of the fine jewelry pieces in our collection including fine gold jewelry and fine gemstone jewelry or to talk to us about creating a unique, handmade, Boston custom jewelry design, contact our in house fine jewelry designers: